Top VoIP Services
Years go by, and more VoIP providers spur up but most just disappear. This is the nature of VoIP. The old saying, "survival of the fittest", is relevant in this business. VoIP is a hard business to maintain as there are thousands of things to keep track of. With that said, there are always services that just stick. The past decade their have been hundreds of VoIP services that have come and gone, but the top 5 that are destined to stay with us for many more years will be talked about today.

Rebtel – #1 Mobile VoIP service
Rebtel is by far the best of the best. And why shouldn't they be? They provide free Rebtel to Rebtel calls to over 60 countries worldwide. They provide Direct Dial service in numerous countries. They provide quality service at an affordable price. They have over 400,000 customers worldwide. We have personally used Rebtel and do recommend it to all customers. There prices are slightly higher than other top-notch services but you are getting high quality service as well.

Localphone – #1 DIrect Dial Service
Localphone is a wonderful service. The best part of there service is there Direct Dial and PC to Phone call features. You can map a international number to a local US or UK number and save it to your phone. When you want to call that international number, just dial the local number and be connected automatically. What could be easier than that? If your not in the US or UK, you can use there PC to Phone feature to register there brand new softphone on your Mac or PC. It is fast and easy. We recommend Localphone to those who reside in the US or UK.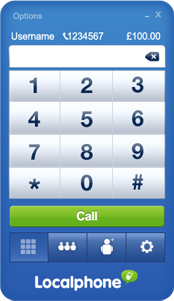 Skype – PC to Phone services

Even though Skype is not a full pledged VoIP service, we can still put them in this list because they do offer Phone calling features. If you own a computer, then most likely you have used Skype at least once. There Video to Video chatting feature is the best in the market today. They also offer deals for Unlimited USA calls at only $2.99/month. This deal does not get any better for this who need to call the US from abroad. Do you have family abroad or a child that is away at college? Use Skype Video features to see them live wherever they are. It is recommended.
Finding the right VoIP service is not as easy as it seems. You might have gone through two or three services before you find the right on for yourself. Rebtel, Localphone and Skype are here to stay. They will provide a quality service that you can count on. If for some reason, there are issues then the customer support team will help you figure it out. Go ahead and use on of these services. Free VOIP services are not always the best so plan on spending a few dollars and be connected to your loved ones.
Originally posted 2011-05-22 19:44:34.
More VoIP information